INSULATION PIERCING CONNECTORS IPC431FJ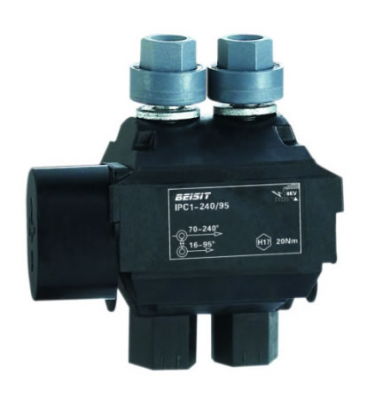 IPC 431FJ
specification:
Main line section(mm2): 70-240
Branch section(mm2): 16-95
Nominal current(A): 377
Bolt Quantity: 2xM10
(Nm): 17
Piercing depth(mm): F1720

IPC 431FJ
- Piercing Connector for external usage. For Main cables 70-240 and Tap cables 16-95. Maximum load: 377A
Good resistance to:
- Distortion,
- Quake,
- Wet,
- Electrochemical corrosion ,
- Aging - no need of maintenance.
Piercing connector (IPCs) provide a fast, convenient and reliable method of connecting overhead low voltage lines (mains to tap or mains to other mains). All common types of conductors can be interconnected, including insulated aluminum or copper one. The connectors have been tested and are approved for use by different power distribution utilities.
© 2023 PiercingConnectors.eu. All Rights Reserved